Farmer Market Vouchers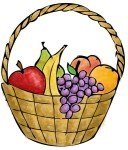 The Senior Farmer's Market Nutrition Program will be offered again this year to eligible Jefferson County Seniors. This program is made possible through the PA Department of Agriculture, Bureau of Food Distribution. Jefferson County Area Agency on Aging will be administering the program starting June 1, 2020. This program provides $24.00 in vouchers free to eligible older adults (an increase of $4 per person). The purpose is to encourage older consumers to eat more fresh fruits and vegetables by local growers who make their produce available at farmer's markets.
Health experts recommend eating five or more fruits and vegetables every day for better health. This program does not only benefit the seniors, but it benefits the farmers as well. Good nutrition is a critical factor in the health and wellbeing of senior citizens.
There will be no in-person pick-up available this year at any location. We are required to complete all paperwork through the mail, email, or fax. Please use the form on the following page and submit to us. Once we have this form, we will mail you the SFMNP checks.
Jefferson County Area Agency on Aging Attn: SFMNP
186 Main St. Ste. 2
Brookville, PA 15825
Fax: 814-849-3232
If you have any questions, please do not hesitate to call us at 814-849-3096 or any of our senior centers:
| | |
| --- | --- |
| Brockway Depot | 814-265-1719 |
| Brookville Heritage House | 814-849-3391 |
| Reynoldsville Foundry | 814-653-2522 |
| Punxy Area | 814-938-8376 |
---
---
FMNP and SFMNP Basic Rules and Regulations
FMNP checks cannot be used before June 1, 2020 or after November 30, 2020.




FMNP customers may buy only the fruits and vegetables grown in Pennsylvania




Recipients must sign in the "Signature Recipient or Proxy" block on the front of the checks. Do this before going to the market or take a pen with you.




At the market look for stands displaying the white Farmers Market Nutrition Program poster.




Each check is worth $6. Farmers are not permitted to give change for purchases for less than $6.




Program recipients may place orders online with FMNP approved farmer; however, you must pay with your paper FMNP checks. A proxy may go to markets to make the purchase for you.




Market information




To find a farmer's market or farm stand with eligible farmers please download the FMNP app. The PA FMNP app is available in the Google Play store and the Apple Store for free. Search for PA FMNP farmers market locator and down load the app.

Or go to www.pafmnp.org to search our online farmers market and farm stand database.




For market with phone numbers please contact the market for changes to operating hours before visiting.




** Note:

Program recipients are encouraged to practice social distancing and wear masks at markets and stands.




List of eligible Fruit and vegetables




Apples




Berries




Grapes




Melons




Pears

Apricots

Cherries

Nectarines

Plums

Peaches




Vegetables

Artichokes




Cauliflower




Leeks




Parsnips




Tomatoes

Asparagus

Celery

Lettuce

Onions

Turnips

Beans (fresh)

Corn

Mushrooms

Radishes

Winter Squash

Beets

Cucumbers

Peppers

Rhubarb

Yams grown in PA

Broccoli Brussels sprouts Cabbage

Eggplant Greens Kohlrabi

Potatoes Peas Okra

Rutabagas Spinach

Sweet Potatoes

Zucchini




No actual plants are permitted for purchase only the mature fruit and/or vegetable is allowable for purchase with the FMNP checks.




Fresh cut herbs are allowed if they are used for cooking or flavoring




Processed food is not allowed for purchase with FMNP Checks. Jack-o-lanterns are not allowable

Citrus or tropical fruits are not allowed for purchase with FMNP checks.
Nutrition Education
Nutrition information on basic nutrition, shopping, cooking and food safety can be found at https://www.nutrition.gov/ The website also contains many different recipes.
---
Fill out the 2020 Application Form Online
Or
Download and Print 2020 Application Form
---